Save Bing Pictures to Your Desktop
Posted On 2009-06-29 by FortyPoundHead
Keywords:
Tags: Tip Tutorial General Windows 7 Vista Windows XP
Views: 3772
---
I've been using Bing quite a bit lately, and I really like some of the backgrounds that they use on the main page. The really cool thing is that the background changes daily!
And if you really like the image being presented, you can easily save it to your own desktop.
Open Bing.com. In the top right part of the screen, click on Country.
Now in the country listings, click United States (English).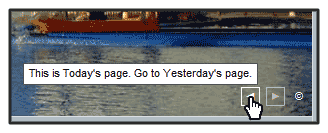 Now go towards the bottom right corner and click on the arrows to see wallpapers from previous dates.
To save them to your desktop, right on the image and click on Save Background As.
Firefox users can do so through Tools > Page Info > Media.
---
About the Author
FortyPoundHead has posted a total of 1974 articles.
---
Comments On This Post
No comments on this post yet!
---
Do you have a thought relating to this post? You can post your comment here. If you have an unrelated question, you can use the Q&A section to ask it.
Or you can drop a note to the administrators if you're not sure where you should post.
---
---
Code Links