Dell XPS 12 - Worth it ?
Posted On 2012-10-18 by dwirch
Keywords:
Tags: Review General Tip Windows 8
Views: 3392
---
Today, I got the opportunity to lay my hands on a Dell XPS 12. What's so special about the XPS 12? It's not sure what it is.
Seriously. The XPS doesn't know if it wants to be a laptop or a tablet. Fortunately for us, this small but powerful unit does both well. Read on for the details.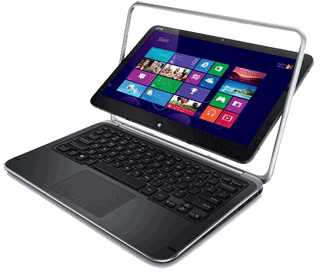 The XPS 12 is Dells latest entry in the "executive jewelry" category of ultrabooks. It's small and light, packing in a strong processor, and enough RAM to perform just about any business task.
Let's get the tech specs out of the way. The unit that I tested with was fully decked out with:
3rd Generation Intel Core™ i7-3517U processor (4M Cache, up to 3.0 GHz)
8GB Dual Channel DDR3
256 GB SSD
Standard features of all XPS 12 tablets are:
Windows 8, 64-bit
12.5" FHD 1080p touch display
Intel HD 4000 video
Realtek ALC3260 soundcard (dual digital array microphones, 2-1 watt onboard speakers)
Mobile Intel QS77 Express Chipset
1.3MP webcam
Intel Centrino Advanced-N 6235 802.11 a/g/n with Intel Smart Connect Technology + Bluetooth 3.0
Intel Wireless Display (WiDi) 3.0 ready
Standard full size, backlit chiclet keyboard; spill-resistant
Glass integrated button touchpad with gesture support
Glass integrated button touchpad
As with most ultrabook-class devices, ports are not as numerous as on larger laptops, but the essentials are there:
1, 9-pin USB 3.0 port
1, 9-pin USB 3.0 port with PowerShare and Windows debugging
1, 20-pin mini-display port
1, headphone/microphone combo port
Using the device as a notebook, it's exactly what you would expect. Small, but with a punch. Boot time was quick, thanks to the roomy amount of RAM, speedy processor, and especially the solid state drive. Visibility of on screen elements was pretty good. The 1080p display has a 160 degree viewing angle, that makes sharing the screen with a friend not too cozy. Remember, it is a small screen, not your 52-inch plasma.
Operation of Windows 8 on the device was equally zippy. Moving in and out of applications, installing new items from the app store, and even playing videos was smooth and responsive. A lightweight device for road warriors to get things done while stuck on a plane for six hours.
Most of the XPS is made up of carbon fiber, on the main body and on the back of the display, with a painted magnesium palm rest. In usual Dell style, an excellent Chiclet keyboard is present. Typing was no problem, even with my big meat hooks.
Now on to the magic, the reason this is classified as a hybrid device. That aluminum bezel is not just a bezel to hold the screen in place, or to just look pretty. It's the hinge/frame for the tilting screen. Simply push the top of the screen back a bit, and it does a full 180 degree flip. then you can close the clamshell, and voila, you have a Windows 8 tablet. Nifty, eh?
This baby was made for Windows 8. The touch screen is responsive and accurate, and I never had a problem doing drag-n-drop operations, selecting tiles or menu options, or even writing with my finger. The on-board camera is still facing you, so you can have your cam-based chats and meetings, without the keyboard getting in the way.
But.
The Dell XPS is just a bit heavier than the iPad, 3.35 pounds versus 1.44 pounds. So be prepared for the extra heft. However, in my opinion (based on my brief experience with the Dell unit), the XPS 12 seems to be more "balanced", and not quite as clumsy in my hands. So in short, my hands didn't seem to be getting tired or fatigued while using the unit for a period of time.
Honestly, I think this weight difference can be forgiven, given the extra 2.4 inches of screen real estate that comes with it.
I currently utilize an iPad 2, mainly for light email, light surfing, and the occasional Angry Birds stress relief. For getting real work done while traveling, I break out my trusty Latitude 6410. There is no way that I can really do serious work on the iPad. It's a consumer device, not a business device. Hence the need to carry both a laptop and a tablet when I travel. One for work, and one for not work.
After using this device for a short period, I would defintely consider this as a purchase. It definitely has the horsepower I need to get things done for my job, and can act like a prosumer consumption device.
It might be a little spendy, for those just looking for a new device that won't get used very often. But if you are serious road warrior, who needs to cut down on the number of devices you tote around in the performance of your duties, I would highly recommend you check out the Dell XPS 12. It's worth cash, in my humble opinion.
Now, how can I get my hands on a long term tester?
---
About the Author
has posted a total of 190 articles.
---
Comments On This Post
No comments on this post yet!
---
Do you have a thought relating to this post? You can post your comment here. If you have an unrelated question, you can use the Q&A section to ask it.
Or you can drop a note to the administrators if you're not sure where you should post.
Code Links